Old Adrian Hospital to be Featured on "Destination Fear" on Travel Channel Next Weekend | Sunday of the three counties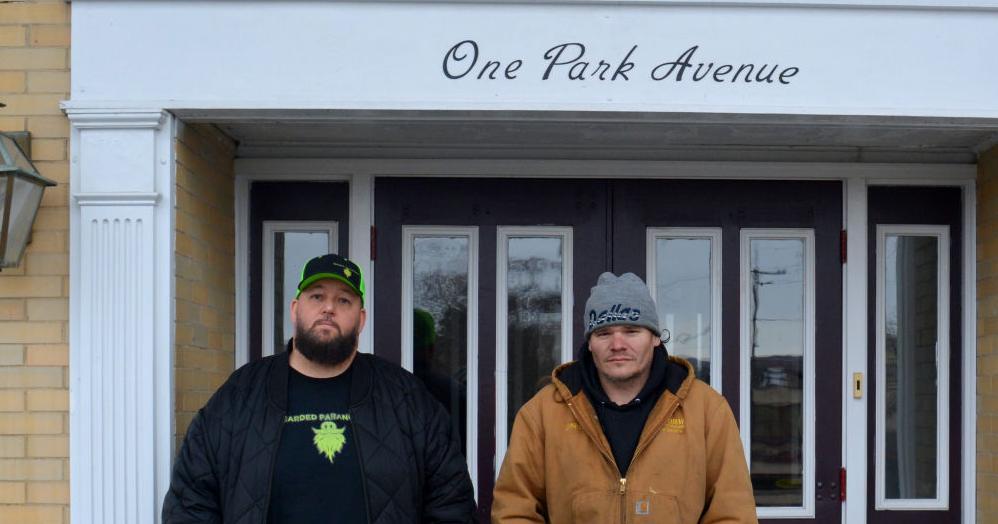 PUNXSUTAWNEY – Two locals came together on a history preservation project at the former Adrian Hospital and Wellington Heights Assisted Living Center in Punxsutawney, resulting in an episode of the building being filmed for Travel Channel to be broadcast in as part of the "Destination Fear" program.
Destination Fear was created by documentary filmmaker Dakota Laden, his sister Chelsea Laden and his best friend Tanner Wiseman. The three travel across the country in an RV to spend nights in seemingly haunted places like asylums, prisons, or other abandoned buildings. While there, they use equipment to research and capture paranormal activity.
The Punxsutawney episode, titled "Old Adrian Hospital" will premiere at 9pm on Saturday, December 4th. The trio will present the night they spent in Punxsutawney in the old hospital and share the evidence they found. This episode was set up with Travel Channel by local paranormal investigator Brian Baum and building owner Jeremiah Nichols.
The two didn't know each other until Nichols bought the building a year ago, although they grew up in the same neighborhood near the hospital. For Nichols he was interested in owning the building because he was born in the hospital while it was still open, his aunt died there while it was an assisted living facility and he wishes to preserve the history of the old building.
"With my birth here, there is an emotional attachment. If they destroy the place, what are you left with. I moved and came back and 90 percent of the historic buildings are broken down. This place has been here for so long… It wouldn't be the same Jenks Hill if this place wasn't there. Nichols said.
Baum, also having grown up near the building, was always interested in it for paranormal investigations, but never knew the extent of the history of the walls. He has approximately 12 years of investigative experience with his Bearded Paranormal group. When he found out that Nichols had purchased the building, he immediately contacted him to ask him to access the building, also offering to help with the cleaning and restoration.
"I actually went to school right across from here and wanted to come in and check out," Baum said. "We had a conversation, he wants to save the story and needed help cleaning up, and if I could come in and investigate while we were cleaning up, we did."
Baum and some of his team will spend the day cleaning the building, then take a few hours after dark to investigate. He said they grab something every time, saying "every time you sit down and actually want to talk to them you'll get something."
The hospital was originally built in 1888 and opened in 1889 as the Adrian Hospital and was opened during the tuberculosis epidemic. The hospital closed in 1975, then in 1984 the building was reopened as an assisted living facility in Wellington Heights. That facility closed recently in 2015, with the website still online and the phone number still able to call the facility's answering machine, according to Baum.
"It freaked me out when we walked past me when I was little. I didn't know how old the building was, and when I researched when it went up for sale, I thought," yes, there must be something in there. "Not just associated with the elderly, more with the old history of the hospital, the mining accidents that happened here… this place was built for the mines of here, "Baum said.
The building itself has several bizarre features and weird secrets, like small cubicle-sized doors that lead to long hallways, and a fourth floor that's not shown on any plan. The only reference to the fourth floor Nichols and Baum found was from Indiana University, citing it as the nursing student dormitory. The only access they found on this floor was an opening in the ceiling that would normally lead to a crawl space, not to another entire floor.
Nichols said he had never been interested in the paranormal, but since working in construction, he and his wife have both heard inexplicable voices and noises.
"I wasn't really big on it, but since my brother started coming here and grabbed a lot of stuff, it's pretty hard to deny repeated activity," Nichols said.
Nichols' ultimate goal is to repair and renovate the building which will be reopened as a guesthouse. He is working towards this goal, putting his extra time and money into the building. Baum created a Facebook page for the building, Old Adrian Hospital / Old Haunted Wellington Heights, to show the progress of the project and offer a way to contact him and Nichols.
"My main intention is to preserve the building and to put something here, to turn on the lights. It's an experience for me, "said Nichols.
The paranormal aspect was never something he thought of until Baum approached him.
Shortly after Baum and Nichols started working together in the building industry and Baum started investigating, he was talking to a friend who works with Travel Channel. She asked if he had any unknown paranormal locations, and he mentioned the hospital. She spoke to the show's producer and shared some of Baum's evidence, and within an hour the production team wanted to send someone to explore the premises.
The show crew came to film the episode in May. Nichols and Baum have had minimal contact with those on the show, providing only some paranormal evidence and the building's history to the producers. The producer made a packet of information for the three who remained in the building.
Baum and Nichols don't even know what to expect from the episode, but they've been told it's one of the team's favorite places so far, and they've grabbed "something."
Baum said the second floor hallway was the most active place in the building for him and his team. He described them when he saw what looked like heads sticking out of the doors in the hallway. One piece is specifically known for women who are affected when they are indoors.
"I call it shadow corridors, because if you're on that side you'll see heads pointing here, and then if you go down to the other end, you'll see heads pointing over there…" like they're just checking you out to see what you're doing here, "Baum said.
He and his team used "REM pods" in the hallway, and he said they always light up when they use them. REM Pods, or Radiating Electro-Magnetism Pod, emit their own electromagnetic field and detect disturbances there, supposed to alert users to possible phantom activity.
He also spoke with a former assisted living employee who said she and other employees would see and hear things while they were working. Baum and her team also heard beeps in the kitchen, similar to heart monitors in hospitals, which the old women in the cafeteria reportedly heard as well. The kitchen was previously an operating room when the facility was a hospital.
Baum and his team also caught something during a "mind box session" – when paranormal investigators use a device that quickly scans the frequency channels of radio stations creating white noise. . This is intended to allow ghosts to manipulate sound and form distinct words and phrases, sometimes heard as intelligent responses. Baum said his team caught a ghost saying he would "put you in a hole" during the spirit box session. Later, when she spoke to the former employee, she told him that there was an elderly resident there who would say the same to nurses when he got mad at them.
While Baum is happy to have access to the building he has wanted to investigate for so long, he is fully in favor of helping Nichols achieve his goals for the building as well. "He save the place, go do something with it instead of just an empty building sitting there unused," Baum said.