North Korea appears to fire its first ballistic missile of the new year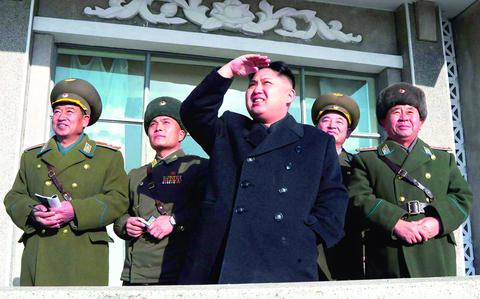 North Korean leader Kim Jong Un stands with officials in this undated Korean Central News Agency photo. (KCNA)
CAMP HUMPHREYS, South Korea – North Korea apparently fired a single ballistic missile towards its east coast at 8:10 a.m. on Wednesday, the South Korean military said after the launch.
South Korean and US intelligence agencies are analyzing the launch, South Korean Joint Chiefs of Staff said in a text message to reporters.
"Our troops are maintaining their readiness and closely monitoring the movement of North Korean troops now," the message read.
The latest launch is the first from the North since the ruling party announced via state media on Saturday that it would "continue building the country's defense capabilities with greater force without having to even slow down." a moment".
North Korea last fired what appeared to be a submarine-launched ballistic missile in October, according to the Joint Chiefs of Staff. In the weeks leading up to that, it launched an anti-aircraft missile, as well as a short-range hypersonic missile.
This story will be updated.
Stars and Stripes reporter Yoo Kyong Chang contributed to this report.
Twitter: @choibboy